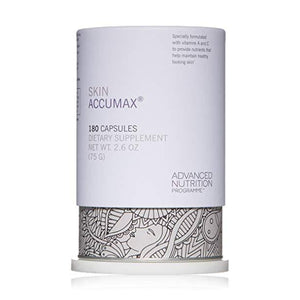 Advanced Nutrition Programme
SKIN ACCUMAX
Regular price
$160.00
$0.00
Unit price
per
SKIN ACCUMAX™ is specially formulated with an advanced biocomplex of essential vitamins that support vital cell functions for clear and radiant skin. Ideal for all skin types, including problematic, this unique formulation includes antioxidants and a phytonutrient, diindolylmethane, that help restore vitality and support overall skin health.

Key Ingredients
Vitamin A: helps mitigate acne symptoms by sloughing out bacteria from pores
Vitamin C: provides antioxidant protection and boosts collagen production
Vitamin E: prevents signs of premature aging and free radical damage
Diindolylmethane (DIM): a phytonutrient identified in cruciferous vegetables
How to Use
For optimum results take 4 capsules a day for a minimum of 14 weeks. If you are happy with results, you may reduce to 2 a day. Always take with a meal. For example: 2 with breakfast, 2 with dinner (vitamins work better if taken with food.)
If you are under a doctor's care, you must consult with your doctor. Not suitable for: • Women who are pregnant • Anyone planning pregnancy • Breastfeeding mothers • People under 16 years of age.
Who is SKIN ACCUMAX for?
Regardless of whether you're only occasionally unhappy with your skin, or if you have ongoing concerns you can take SKIN ACCUMAX. It's suitable for males and females, as long as you're over the age of 16. It has been specially designed to address all levels of problem skin.
How soon will I see results?
This will vary from person to person however we recommend that you initially take SKIN ACCUMAX for at least 14 weeks. Most people will start to see results by then, and skin may continue to improve with continued use.
Ingredients
Supplement Facts:Serving Size 2 capsulesIngredients: Vitamin A (as retinyl palmitate), Amount Per Serving: 1,333 IU, % Daily Value: 27%, Vitamin C (as ascorbic acid), Amount Per Serving: 20 mg, % Daily Value: 33%, Vitamin E (as d-alpha tocopheryl succinate), Amount Per Serving: 14.5 IU, % Daily Value: 48%, Diindolylmethane (a compound identified in broccoli), Amount Per Serving: 37.5 mg, % Daily Value: *Soy Phosphatidylcholine Amount Per Serving: 9 mg, % Daily Value: *
*Daily Value not established.
Other Ingredients
Tricalcium Phosphate, Corn Starch, Silica, Microcrystalline Cellulose, Magnesium Stearate, Silicon Dioxide, Sugar, Gum Arabic, Hypromellose.Contains: Soy.
Diindolylmethane is a compound identified in broccoli.

NO ADDED dairy, yeast, artificial colors or flavors.

†This statement has not been evaluated by the Food and Drug Administration. This product is not intended to diagnose, treat, cure or prevent any diseases.
---
Share this Product
---