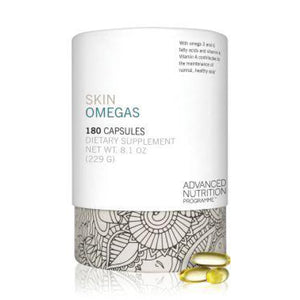 Advanced Nutrition Programme
Skin Omegas
Regular price
$140.00
$0.00
Unit price
per
Made from premium, highly purified omega-3 fish oil and omega-6 from evening primrose oil, Skin Omegas helps maintain skin integrity and a healthy lipid layer for a smooth, luminous complexion
Skin Omegas – Omega-3 fatty acids are known as the "good fat" and are a vital part of a balanced diet.
They play a crucial role in cell renewal throughout the body, including the skin. Because omega-3 is anti-inflammatory, all skin types can benefit from it, including dry, sensitive and acneic skin. Omega-3 also helps to increase hydration and overall smoothness.
What makes Skin Omegas+ special?
Skin Omegas+ contains EPA (an important omega 3 fatty acid) along with GLA (an important omega 6 fatty acid) made from Evening Primrose Oil
Skin Omegas+ is made with premium, scientifically researched omega 3 from EPAX, a world leading supplier known for its purity, quality and innovation. They hold a Friend of the Sea certificate, so you can be sure the omega 3 is sourced using methods that conserve marine habitats and resources. EPAX products are guaranteed to meet or exceed all known global purity standards.
Benefits
Like an internal moisturizer for the skin
Nourishes dry skin
Gives skin a luminous glow
Supports skin health~
Our omega-3 is combined with omega-6 from evening primrose oil and vitamin A. Skin Omegas is a perfect companion to any skincare regimen. Easy to digest with no aftertaste. Two capsules a day with food are recommended.
Pilot study to evaluate the effects of Skin Omegas on key parameters of skin function:
Results

Improvement in elasticity (↑ 8%), smoothness (↑ 20%), wrinkle depth (↑ 24%), hydration (↑ 40%), and TWEL (↑ 36%).
Not Suitable for: Anyone using anticoagulant medication such as heparin, warfarin (Coumadin®) must consult a doctor before taking Skin Omegas.
Not tested on animals.
Manufactured in the UK to certified Good Manufacturing Practices (cGMPs) regulations. FDA registered.
*These statements have not been evaluated by the Food and Drug Administration. These products are not intended to diagnose, treat, cure or prevent any diseases.
Ingredients

Vitamin A 400iu, 120µg RE, 15 %NRV; Fish oil (1140mg) providing omega 3 fatty acids;  EPA (eicosapentaenoic acid) (356mg); DHA (docosahexaenoic acid) (238mg); Evening Primrose Oil (594mg) providing omega 6 fatty acids; GLA (gamma linolenic acid) (50mg).
NRV = Nutrient Reference Value
RE = retinol equivalent
Fish oil, capsule shell (fish gelatin and glycerol), evening primrose oil, antioxidant: d-alpha tocopherol in sunflower oil, vitamin A palmitate, antioxidant: dl-alpha tocopherol.
Allergy Advice: Contains FISH.
Free From: Yeast, artificial flavourings, gluten.
---
Share this Product
---