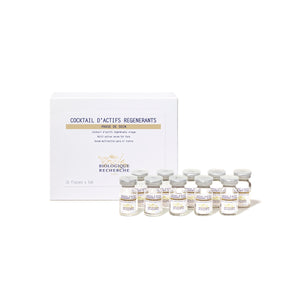 Biologique Recherche
Cocktail d'actifs Regenerants
10 vials - 0.17 fl oz / 5ml

Deep epidermal activation and regeneration to truly revitalize the skin, one vial at a time.
Chock-full of vitamins and active ingredients derived from cutting-edge biotechnology, this cocktail provides multi-benefit results, even in the case of the most devitalized Skin Instants. It activates cellular regeneration, protects against the harmful effects of free radicals and boosts the skin's protective functions while improving epidermal moisture and tone.
With over 58 active ingredients including vitamins B, E, C and A, amino acids and polypeptides that have been developed using cutting edge biotechnology, these individually wrapped vials of serums are our most potent of Targeted Sérums. The Cocktail d'Actifs Régénérants is an over-boosted serum which reduces and prevents the appearance of fine lines and wrinkles by activating cellular regeneration and stimulating collagen and elastin production but also protects the skin from the harmful effects of free radicals by boosting the skins protective functions. Suitable for devitalised, mature Skin Instants® or anyone looking to nourish and tone their epidermis, this serum will illuminate the complexion, giving it vitality and energy.
Reduces and prevents signs of aging by boosting cell regeneration
Anti-oxidant action which protects the skin from the harmful effects of free radicals
Brings hydration and improves the tone of the epidermis
Improves the skin texture, making it smoother and softer
*Note: An open bottle must be used within 48 hours maximum. Vials after opening, must be stored at 4°C (40°F).

How to Use
Apply 1/2 bottle on the face, neck and cleavage and repeat the application with the second half the next day. Avoid the eyes contour. Best used in a 7-10 day treatment. Refrigerate after opening.  Can be repeated quarterly
Ingredients
Regenerating agents: Sh-Polypeptide-1, Sh-Polypeptide-2, Sh- Oligopeptide-1, Sh-Oligopeptide-2, Copper Tripeptide-1.
Moisturising agents: Amino Acids (24).
Revitalising agents: Vitamins E, C, A, B7, B8, B3, B5, B6, B12.
Stimulating agents: Calcium, Sodium, Magnesium, Potassium, Adenosine Phosphate Cyclic, Cytosine et Thymine, Guanosine, Coenzyme A, Nicotinamide Adenine Dinucleotide (NAD), Flavine Adenine Dinucleotide Disodium (FAD), Glucathione
---
Share this Product
---