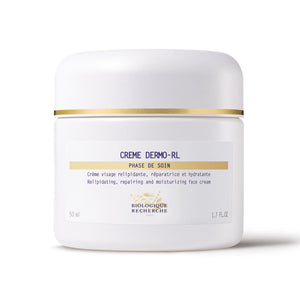 Biologique Recherche
Creme Dermo-RL
Creme Dermo RL is for dehydrated skin. Reverses skin deficiency in fats, making it great for cold winter climates. It helps provide hydrating elements to combat dehydration from air conditioning. Repairs, restructures and visibly conditions the skin.

Creme DermoRL has hyaluronic acid making it great as a hydrating, anti-aging product to add to your daily skin care regime.
Creme DermoRL for dehydrated skin is enriched with moisturizing Hyaluronic Acid and protective and repairing agents, its formula helps to refill the skin with lipids and moisture.  Crème Dermo-RL is a super-rich moisturizing cream recommended for very dry and lipid-deficient skin conditions or anyone exposed to harsh, cold climates. Containing shea butter, omega 3 & 6, hyaluronic acid your skin will feel suppler, conditioned and comforted; and the repairing agents of barbary fig and jojoba oil will support your skins natural functions. This cream will repair, restructure and visibly recondition the epidermis, which will regain its radiance and vitality, day after day.  Adding a few drops of Serum TEWL is a excellent way to increase the depth of the creme.
Thanks to this source of fatty acids, the skin is strengthened in its natural functions and regains its radiance, hydration and vitality.
Please do not use on skin with seborrheic tendencies (acne-prone skin).
Recommended For
Dehydrated and lipid-deficient Skin Instants
How to Use
After cleansing with Biologique Lait EV or Lait VIP 02 milk and applying LotionP50T/Lotion P50 PIGM 400 and your Q-Serums of choice, apply Creme Dermo RL
Biologique Recherche Creme Dermo RL from jar with a spatula to avoid bacterial contamination. After emulsifying creme in your hands, apply in upward smoothing movements, starting at decollete and working up.  A excellent product to use as your Finishing serum is Serum Yall 02, La Serum Grande or Serum TEWL.
Ingredients
Blackcurrant Butter, Grape Seed Oil, 3&6 Complex, Hyaluronic Acid, Sugar Derivatives Walnut Extract, Cranberry Oil, Omega. Glycoproteins derived from Microorganisms of Antarctica, Barbary Fig Extract and Jojoba oil.
1.7 fl. oz. / 50ml
---
Share this Product
---