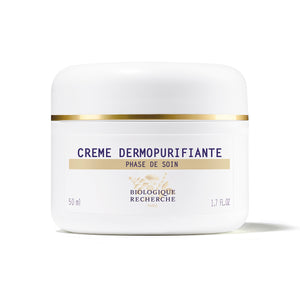 Biologique Recherche
Creme Dermopurifiante
Creme Dermopurifiante is for problematic skin. Developed using 20 concentrated active ingredients to offer a solution to unruly and seborrheic skin conditions. This mattifying, rebalancing cream regulates the production of sebum, purifies the skin thanks to its antibacterial ingredients, tightens pores and protects against external aggression's. The vitamin B3 contained in this cream has anti-inflammatory properties that enable to fight against acne-related problems on oily skin while arnica acts as a soothing and protective agent. The yeast extract, due to its vitamin B content, restores balance and promotes the healing process when skin disorders occur. Perfect for a deep-cleanse, reduce shine and treat congestion; it will prevent the creation of blocked pores and inflammation, and leave your complexion feeling unified. You will find that redness is reduced, pores are tightened and unblocked, and that the skin is hydrated and softened. This cream is ideal to use in the evening to detox the skin. If you find your skin experiencing hormonal breakouts, apply to the targeted affected areas.

Unblocks hyperkeratinized hair shaft to help keep skin clear
Purifies and cleans up the skin (antibacterial active ingredients)
Reduces redness and is a anti-inflammatory
Regulates oil secretions
Tightens pores
Protects and hydrates
Creme Dermopurifiante is the best cream to clear up blemishes, re-balance the skin and unify the complexion. This purifying cream reduces redness caused by acne and regulates sebum secretion.
Our best selling moisturizer for problematic skin.
Expert care for seborrheic skin--Ideal for Acne
Creme Dermopurifante has twenty concentrated active ingredients targeting the main causes and consequences of problem skin.
Reduces inflammation and redness in the skin because of its high yeast content
Recommended For
Seborrheic, unbalanced reactive
Skin Instants, including reactive skins
How to Use
Can be used by anyone with combination to oily skin who is just beginning a Biologique Recherche program. After cleansing with Biologique Lait U or Lait VIP 02 cleansing milk and applying Lotion P50T/ Lotion P50 PIGM400 and your favorite Q-serums, remove Biologique Recherche Creme Dermopurifiante from jar with a spatula to avoid bacterial contamination. After emulsifying creme in your hands, gently pat all over your face and neck and gently massage in.  Always adjust the amount of moisturizer to how your skin is feeling.  More if dry, less if oily.
Ingredients
Active ingredients include: yeast extract, centella asiatica, thyme, lavender, usnic acid, aloe, wild pansy extract, coffee extract and vitamin C.
1.7 fl. oz. / 50ml
---
Share this Product
---