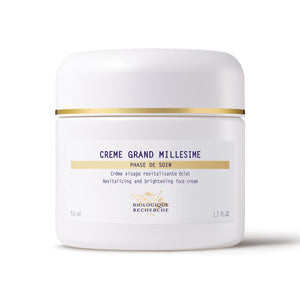 Biologique Recherche
Creme Grand Millesime
Anti-aging cream that revitalizes, regenerates, and brightens the skin. Boosts skins's natural defenses. Regenerating and hydrating cream the revitalizes the skin and brightens the complexion, also preventing signs of aging in the skin.

Provides intense moisture and improve the skin's elasticity.  Crème Grand Millésime is a multi-function cream for devitalized, dull, and/or thick Skin Instants which feel a need of rejuvenation. It contains our BR Grand Millésime complex to regenerate, witch hazel and cucumber to soothe, hyaluronic acid to moisturize and silk extract to soften. This powerful beauty treatment will intensely hydrate your epidermis, and improve your skin's elasticity, leaving your complexion unified, revitalized and glowing.
Creme Grand Millesime combines cellular extracts and a highly efficient phyto-biological antioxidant complex to rejuvenate the skin on a daily basis.  This cream's formulation is rich in anti-oxidant, energizing and stimulating agents that purify and brighten the complexion. It is recommended for young, dull, devitalized skin.  Creme Grand Millesime an anti-aging cream
It boosts the skin's natural defenses.  Biologique Recherché Crème Grand Millesime moisturizing face cream is a richer, more moisturizing cream that combines cellular extracts and a highly efficient phyto-biological antioxidant complex.
Recommended For
Dry and devitalize Skin Instants
How to Use
After cleansing with Biologique milk and applying P50T and your serum, remove Biologique Recherche Creme Grand Millesime from jar with a spatula to avoid bacterial contamination. After emulsifying creme in your hands, apply in upward smoothing movements, starting at decollete and working up.
Products we recommend to use with Creme Grand Millesime are:
Cleanser: Lait EV/Lait VIP O2, Eau Micellaire Biosensible, L'Eauaxygenante (Moisture Mist)
Serums:  Serum 3R, Serum Colostrum
Masque:  Masque Visolastine +
Finishing serum:  Serum Yall 02, Silk Plus, and Fluid VIP 02
Serum de Teint for that finishing touch.
Ingredients
Grand Millesime Complex, Cellular Oligopeptide, Tepescohuite Extract, Witch Hazel Extract, Cucumber Extract, Hyaluronic Acid, Silk Extract
1.7 fl. oz. / 50ml
---
Share this Product
---