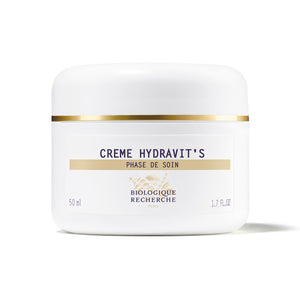 Biologique Recherche
Creme Hydravit'S
• HYDRATING • REVITALIZING • ENERGIZING

Creme Hydravit's is for the first signs of dehydration. Offers speedy hydration, brightness, and regeneration. Contains moisturizing extracts of colostrum and re-lipidating agents of fatty acids, which are crucial for epidermal structure. With extracts of thermal algae and yeast, the skin will also feel revitalized. Good for very dry skin, hydrating. Use with Biologique Recherche Oligo Protein Marine Serum as they're both algae based.  
Crème Hydravit'S is the ultimate in moisturizing skincare. It acts on several levels to infuse the epidermis with deep-down, instant yet long-lasting hydration. Its revitalizing active ingredients promote cell renewal to regenerate the skin and recharge it with energy. Skin is soothed and feels more comfortable, with a fresh glow.
NOTE: Be careful if you're allergic to shellfish.  Creme Hydravit's followed by a few drops of Silk Plus will make the skin radiate with beauty.  
Belongs to Essential Creams category. The Essential Creams are formulated for healthy skin and designed to preserve essential hydration levels. Result: a stronger, toned epidermis.
Ideal for young skin, Hydravit's brightens dull complexions. It instantly energizes, providing lasting hydration and brightening the complexion.  Creme Hydravit's excellent for dehydration
Actions
Brightens dull and stressed complexions.
Re-mineralizes the epidermis.
Provides lasting hydration of the top layers of the epidermis.
Instantly energizes and revitalizes your skin.
Your complexion is immediately brightened.
Ideal for young skins. Crème Hydravit'S followed by a few drops of Silk Plus will leave you with a radiant glow. Use without moderation on special occasions.
Recommended For
Dehydrated, stressed Skin Instants
How to Use
Apply a hazelnut-sized amount of Crème Hydravit's over all the face, neck and cleavage after previously using P50T and Quintessential Serums
Products we recommend to use with Creme Hydravit's:
Cleanser:  Lait EV/Lait VIP 02, Eau Micellaire Biosensible
Exfoliant:  P50T and P50 PIGM 400
Serums:  Serum Oligo Proteine Marines, Serum Colostrum, Serum 3R, Serum A-Glyca
Masque:  Masque Vernix at night(leave on),
Finishing serum: Serum La Grande, Serum Yall, and Silk Plus, and of course Serum de Teint to finish off with radiant glow.
Appropriate Biologique Recherche moisturizer.
Ingredients
Active ingredients include: thermal algae, yeast extract, birch bark extract, calendula extract and vitamin C.
1.7 fl. oz. / 50ml
---
Share this Product
---