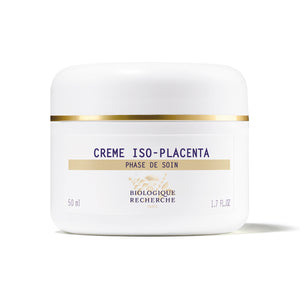 Biologique Recherche
Creme ISO-Placenta
Crème ISO Placenta has a specific action on acne-prone skin. It activates cell regeneration to help rebuild the epidermis damaged by acne. It provides the skin with all the nutrients it needs by simulating human placenta properties, thereby acting via biomimicry. Once the skin barrier is repaired, the skin returns to normal. It appears replenished and revitalized. Acne scars are corrected: the skin's microrelief is improved and redness is reduced. The skin is smoother, soothed and comfortable. The complexion is unified, brighter and full of vitality.

The formulation has removed the animal extract for the placenta component and has replaced it with a biomimetic placenta. There is also change in the texture of the cream as well. All original brown creams had such high concentrations of yeast and fatty acids to mimic our natural sebum, however, due to this, the high  percentage of actives led to separation, which became a visual and client-use barrier. They have added enhanced emulsifiers and hydrators to avoid this.
As for the biomimetic placenta, it contains 5 of the same essential growth factors of the human placenta. By acting via biomimicry, it supports the growth, regeneration and healing of the skin. It also stimulates the fibroblasts by providing nutrients and increasing synthesis of elastin and collagen. This helps to recover the suppleness and elasticity of the skin which can also result in minimizing wrinkles/lines and increase moisture.
ISO Placenta Cream works amazing with Serum Placenta.
What is biomimicry?
It's the design and production of materials, structures, and systems that are modeled on biological entities and processes.
Skin Instant
Seborrheic with Traces of Acne
Actions
Reduces the traces left by acne
Smooths the skin's microrelief
Reduces redness caused by acne
Smooths skin texture
Repairs, regenerates and revitalizes the skin
Unifies and brightens the complexion
Efficacy Testing
Below are results from BR's efficacy test. Test conducted on 21 volunteers aged 19 to 43 with old traces of acne. Clinical scoring was performed after applying the product twice daily for 56 days.
Redness of traces (-11.6%)
Visibility of traces (-14.1%)
Density of traces (-13.3%)
Smooth appearance of the skin texture (+41.8%)
Active Ingredients
Biomimetic Placenta: regenerates and promotes healing
Maracuja Oil: heals damaged skin and repair skin tissue
Yeast Extracts: rich in Vitamin B, helps to heal and re-balance
1.7 oz / 50 ml
---
Share this Product
---