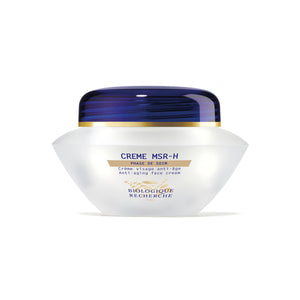 Biologique Recherche
Creme MSR-H Anti-Aging Face Cream
Creme MSR-H/anti-aging cream for menopausal women
 Helps correct hormonal imbalances in the skin and restores the skin's brightness, leaving skin looking radiant. Re-balances, Revitalizes, Improves Elasticity, Hydrates, relieves tightness and redefines the facial contour. Velvety soft texture leaves skin feeling soft, glowing and luminous.  Crème MSR-H has a high concentration of active ingredients that target the skin imbalances caused by menopause. Its dermo-regenerating formula acts to redensify skin tissue, making it firmer and more elastic. Wrinkles and fine lines are smoothed out as skin regains its plumpness. Giving intense and lasting hydration, Crème MSR-H combats the skin dryness that can be a common complaint at this time of life.
Biologique Recherche created Creme MSR-H as an intensive, anti-aging formulation that actively fights the effects that pre-menopause, menopause, and post menopause have on one's skin.  With its multifaceted benefits, Creme MSR-H is a favorite among those with mature skin.  Creme MSR-H is the best anti-aging cream for menopausal women
The Crème MSR-H combats the signs of age through its regenerating, moisturizing and anti-aging action. Its action specifically targets the physiological effects of menopause on the skin; the cream, therefore, responds to the specific needs of mature skin conditions. Containing shea butter and beeswax to moisturize and soften, this cream will relieve epidermal tightness by intensely hydrating the skin and improving its elasticity. It also contains yam and soya to help with hormonal imbalances, and Vitamin E to fight free radicals. The regenerating and re balancing properties of Crème MSR-H restore your skin's brightness and freshness, leaving you looking radiant. 
Recommended For : Mature Skin Instants
How To Use : After cleansing with Biologique cleansing milk and applying P50T and your serum, remove Biologique Recherche Creme MSRH from jar with a spatula to avoid bacterial contamination. After emulsifying creme in your hands, apply in upward smoothing movements, starting at decollete and working up.
Products we recommend to use the Creme MSR-H are:
Cleanser: Lait VIP 02/Lait EV, Eau Micellaire Biosensible
Exfoliant: Lotion P50T/ Lotion PIGM 400
Serums: Serum Elastine Authentique, Matriciel Visage, Serum VG Tensil  &  Serum A-Glyca,
Finishing Serum: Serum La Grand/Serum Yall 02 and of course Serum de Teint for that radiant glow.
Product Ingredients : Biologique Recherche Creme MSR-H ingredients contain a unique combination of wild yam extracts, soy extracts, shea butter Vitamin E and beeswax with Biologique Recherche's exclusive oxygen carrier.
1.7 fl. oz. / 50ml
---
Share this Product
---