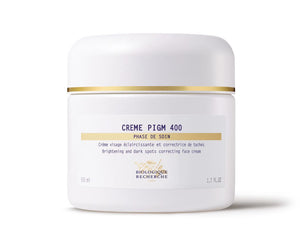 Biologique Recherche
Creme PIGM 400
• ANTI-PIGMENTATION SPOTS • BRIGHTENING • PROTECTIVE

Crème PIGM 400 has been specially formulated to prevent the appearance of pigmentation spots, reduce the intensity of existing brown spots, and brighten the complexion and render it more uniform. This Biologique Recherche treatment contains whitening agents of young cress shoots, plump pulp extract, and soybeans that act on the melanogenesis process at all levels, from pigment creation to their surface migration. There are also a number of active substances with antioxidant properties to limit protein and lipid oxidation as well as active ingredients that stimulate lipofuscin breakdown.  Melanin synthesis is definitely slowed down, decreasing the production of pigmentation.
Creme PIGM 400 is an efficient and epidermis-friendly treatment that also limits the aging of the skin with it's antioxidant ingredients.
Creme PIGM 400 is a treatment cream for pigmentation taking action against the synthesis of new melanin.
Unifies the complexion and reduces irregularity problems.
Recommended For
Pigmented and Dull Skin Instants
How to Use
Apply Creme PIGM 400 morning and/or evening, to the entire face to brighten the complexion or directly to age spots. Protect your skin from the sun after application of this product. DO NOT use on children. Avoid the eye contour.
Products we recommend to use with Creme PIGM 400:
Cleanser: Lait VIP 02
Exfoliant: LotionP50T/ Lotion PIGM 400
Serums: Serum PIGM 400, Serum Placenta, Serum Amniotique, and Serum A-Glyca
Appropriate Biologique Recherche moisturizer if needed.
Finishing Serums: Serum Yall 02, Fluid VIP 02, and of course Serum de Teint for a healthy glow.
Ingredients
Biologique Recherche Creme PIGM-200 Active ingredients include: watercress leaf extract, pure soy-based genistein, plum pulp, exo-polysaccharide, vitamin E derivative, and wasabi extract.
1.7 fl. oz. / 50ml
---
Share this Product
---