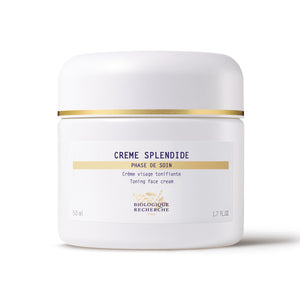 Biologique Recherche
Creme Splendide
• FIRMING • TONING • REVITALIZING

Creme Splendide is a intense anti-aging cream that revitalizes and stimulates the skin. This anti-aging treatment stimulates the skin's natural functions, restoring firmness and a healthy glow.
Helps to tone and firm the skin
Revitalizes and skin's natural function
Tones and Firms the skin, Moisturizes the upper layers of the skin and protects the skin against external aggressions.  Fantastic for our cold winters.
Rich in energizing active ingredients including Biologique Recherche's high efficiency Specific Botanical Complex and Yeast extract, Creme Splendide offers in-depth toning and revitalizing.
Protects the skin from external aggressions.  It offers instant firming and toning.
Creme Splendide is a intense anti-aging cream that revitalizes and stimulates the skin, firms and deeply moisturizes.  A true burst of vitality, this anti-aging treatment restores density and provides immediate hydration, making skin look brighter.  Creme Splendide is a comprehensive, anti-aging treatment that offers advanced performance.
Recommended For
All Skin Instants that are less toned
How to Use
After cleansing with Biologique milk and applying P50 and your serum, remove Biologique Recherche Creme Splendide from jar with a spatula to avoid bacterial contamination. After emulsifying creme in your hands, apply in upward smoothing movements, starting at decollete and working up.  Always adjust the amount of moisturizer to how your skin is feeling.  For those colder, drier days this cream is excellent when mixed in the palm of your hand with a few drops of  T.E.W.L. Serum.
Products we recommend to use with Creme Splendide:
Cleanser: Lait EV, Lait VIP 02, and Eau Micellaire Biosensible
Exfoliant: Lotion P50T and Lotion P50 PIGM 400
Serums:  Serum Elastine Authentique, Serum Amniotique, Serum Matriciel Visage
Finishing Serums: Serum La Grande, Serum Yall 02, Silk Plus, and of course Serum de Teint.
Ingredients
Active ingredients include: colostrum, cucumber, lactic acid, tea lactate, vitamin C and the active firming ingredients of serum Splenodermine.
1.7 fl. oz. / 50ml
---
Share this Product
---