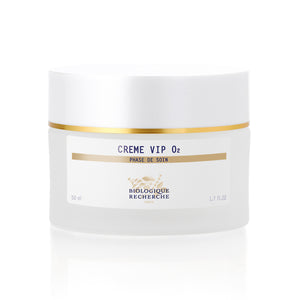 Biologique Recherche
Creme VIP O2
• OXYGENATING • ANTI-POLLUTION • REGENERATING

Cream VIP 02 is a hyaluronic acid cream that is a  perfect anti-pollution, anti-aging, oxygenating cream for immediate revitalized and healthy skin. This cream contains a combination of active ingredients to hydrate and oxygenates the epidermis; the revolutionary Specific BR Oxygenating Complex helps to brighten, the Cellular oligopeptide  regenerates and the Hyaluronic Acid moisturizes.  Creme VIP O2 is a brightening and unifying cream that revitalizes and regenerates the skin and prevents the appearance of the first visible signs of aging. Perfect for skin in need of a refreshing pick-me-up, and for those who live in smoky, urban areas where it may be easy to encounter harsh pollutants on a frequent basis, Creme VIP O2 instantly tones and brightens skin, leaving your complexion looking glowingly healthy.  Biologique Recherche Creme VIP O2 is an oxygenating cream that helps stimulate, hydrate, and protect the skin from pollutants. Brightens the complexion, tones the skin and provides natural protection for the epidermis.
Instantly tones your skin and brightens your complexion, leaving you looking glowingly healthy.
Your skin is moisturized and oxygenated.
Its anti-pollution properties protect your skin from external aggressions throughout the day.
Since its texture is not oily, this cream is suitable for all skin types and can be used either on its own or combined with serums.

Can be used on all skin instants. 
How to Use
After cleansing, applying P50T and your serum, remove Biologique Recherche Creme VIP O2 from jar with a spatula to avoid bacterial contamination. After emulsifying creme in your hands, apply in upward smoothing movements, starting at decollete and working up. Can be used with any serum. It's a cream for any skin type.
Products we recommend to compliment this oxygenating cream are:
Cleanser: Lait VIP O2
Exfoliant: Lotion P50T and Lotion P50 PIGM 400
Serums: Serum A-Glyca, Serum Elastine Amniotique, and Serum Tissulaire
Eyes: Creme Contour VIP O2
Finishing Serum:  Serum La Grande, Fluid VIP O2 and Serum de Teint
Recommended For: Tired and/or Devitalized Skin Instants
Ingredients
Biologique Recherche Creme VIP O2 Active ingredients include: marine collagen, corn extract and Biologique Recherche's exclusive oxygenating complex.
1.7 fl. oz. / 50ml
---
Share this Product
---