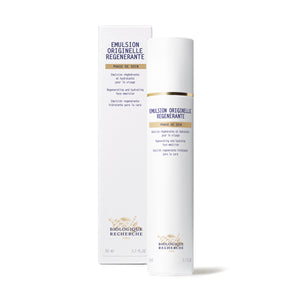 Biologique Recherche
Emulsion Originelle Regenerante
• MOISTURIZING • REGENERATING • NOURISHING

Emulsion Originelle Regenerante Visage is a sensitive skin moisturizing cream. Combines Essential fatty acids and a Botanical Complex producing a fine moisturizing emulsion that helps reinvent dry skin and calms and soothes the epidermis.  Emulsion Originelle Regenerante is a nourishing and hydrating emulsion that moisturizes the skin, prevents dehydration and immediately soothes stressed skin, calms irritations and tightness.  The Émulsion Originelle Régénérante Visage is an intensive moisturizing emulsion enriched in lipid-restoring active ingredients. Its high content of Vitamin E. will restore your natural protective barrier to offset the drying effects of extreme climatic conditions during the day and regenerate at night. By moisturizing your face, this enriched in colostrum and hyaluronic acid emulsion will help reduce the skin's water loss and prevent skin aging.  Biologique Recherche Emulsion Originelle Regenerante  a sensitive skin moisturizing cream derives its soothing, hydrating properties from a concentrated dose of Mimosa extract, Vitamin E, and Hyaluronic Acid to calm and replenish easily irritated skin. This moisturizer for dry, sensitive skin helps the skin to feel soft and comfortable while the cutting-edge combination of active ingredients and antioxidant properties works to restore the skin's deficient hydrolipidic film and protect it from environmental irritants.
Recommended For
Fine, Sensitive and/or Dehydrated Skin Instants
How to Use
After cleansing with Biologique Milk and applying P50T and your serum, remove Biologique Recherche Emulsion Originelle Regenerante from tube. After emulsifying creme in your hands, apply in upward smoothing movements, starting at decollete and working up.
Products we recommend to use with EOR are as follows:
Cleansers: Lait U, Lait VIP O2, and Lait EV
Exfoliant: P50T and P50 PIGM 400
Serums: Serum Amniotique, Serum Placenta, and Serum Elastine Amniotque
Eyes: Creme Contour Les Yeux Vip O2
Appropriate Biologique Recherche moisturizer
Finishing Serums: Serum Yall O2, Serum La Grande and definitely Serum de Teint.
Ingredients
Soothing and softening agents: Mimosa Tenuiflora Extract, Rhmanose-rich Polysaccharides.
Lipid barrier restoring agents: Macadamia Oil, Botanical Squalane, Virgin Sisymbrium Oil, Sugar Derivative.
Protective and repairing agents: Vitamin E, Tripeptide antioxidant.
Moisturizing agents: Colostrum, Hyaluronic Acid.
1.7 fl. oz. / 50ml
---
Share this Product
---