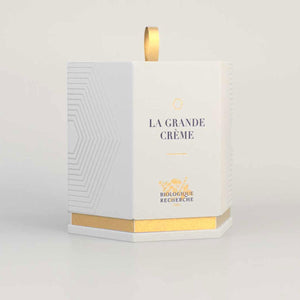 Biologique Recherche
La Grande Creme
• REGENERATING • ANTI-AGE SPOTS • FIRMING • ANTI-WRINKLE • PROTECTIVE

A groundbreaking innovation, La Grande Crème tackles all age-related skin concerns. EpigenActiv® "switches off" the genes that are involved in the process of skin ageing, to enable the ultimate regeneration. Its active ingredients improve the functional architecture of elastin and collagen fibers, giving a real "lifting" and anti-wrinkle effect. Skin on the face is strengthened, its contours are restructured and the complexion is clearer and more even.
Recommended for Skin Instants© showing signs of epidermal ageing.
Cellular regeneration: protects the cells to preserve their longevity for a regenerating effect
Improves the overall water balance of the epidermis
Restructures and regenerates the dermis for a corrective anti-aging and anti-wrinkle effect
Intensifies cellular cohesion
Total restructuring and firming effect
Reinforces the skin's barrier function against harsh external factors
Boosts dermal-epidermal interactions, which often decline with age. Regenerating genuine cellular revival.
Structuring and volumizing: combats sagging facial skin and provides a lifting effect.
Firming: improves the skin's bimechanical properties.
Anti-wrinkle: diminishes the size and depth of wrinkles.
Anti-spot: diminishes pigmentation irregularities.
Protective: improves the quality of the skin barrier.
A total innovation in the world of professional cosmetics, La Grande Creme targets all age-related phenomena. It acts on the cutaneous aging process to promote genuine cellular regrowth. La Grande Creme is Biologique Recherche's new innovation for skin affected by cutaneous aging and the effects of epigenetic  modifications on DNA expression. It promotes regeneration to renew strength and epidermal restructuring. The cutaneous barrier is thus restored. This revolutionary cream tackles all age-related phenomena, for a facial treatment that is both complete and effective
Recommended for Skin Instants© showing signs of epidermal ageing.
How to Use
Be sure to Cleanse with appropriate Biologique Recherche Cleanser and Lotion P50
Apply in the morning and/or evening to the cleansed skin of entire face, neck and decollete. Massage in using upward strokes.
---
Share this Product
---