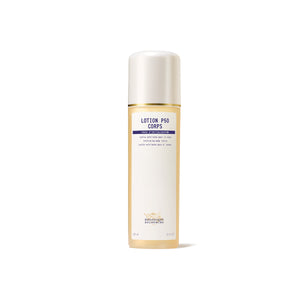 Biologique Recherche
Lotion P50 Corps
8.4 fl. oz. / 250ml
"It's a miracle in a bottle!" If you happen to be a cultish devotee of Biologique Recherche's P50 exfoliating toner, you may have given serious consideration to the idea of bathing in it already. The gentle retexturizing formula, which produces a mysteriously addictive tingling sensation beneath the skin on contact, has been eradicating pores, smoothing away rough patches, and boosting hydration levels above the neck for more than four decades.
Balances the skin's surface pH.
Regulates oil production
Enhances the effects of other products
Hydrates
Recommended For
Body Gently Balancing Exfoliator for Normal to Oily Skin Instants
How to Use
Pour a few drops of Lotion P50 Corps into the palm of your hand and apply it to the areas requiring treatment (stomach, legs, etc). Initially, massage the areas with your hands so that the product penetrates. Then, for thick skins, continue to massage with the Massage Glove Biologique Recherche, or for fine, delicate skins massage with a damp wash glove. Focus on rough areas (knees, elbows and heels). You can accelerate the desired effect by taking a steam bath before and after applying Lotion P50 Corps.
Ingredients
Purifying and exfoliating agent: Usnic Acid, Poly-Alpha-Beta Hydroxy Acid Complex, Lemon Extract. Balancing agent: Burdock Extract.
Moisturizing agent: Vitamin PP, Lactic Acid.
---
Share this Product
---