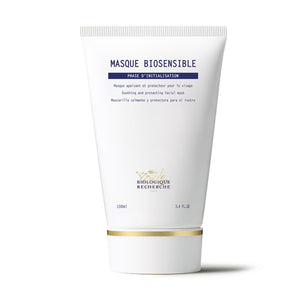 Biologique Recherche
Masque Biosensible
Masque Biosensible is an absolute go-to for anyone with sensitive/red/irritated skin. Detoxifies and soothes the skin and tones down red blemishes. Masque Biosensible (sensitive/dry) is a fresh mask enriched with high-tolerance active ingredients to provide instant relief for an unhappy skin, affected by discomfort and tightness.

Specifically formulated for sensitive and/or sensitized Skin Instant/
Regulates water loss from the skin
Replenishes the epidermis with structural lipids
Restores the deficient hydrolipid film
Protects against external aggression's by fortifying the skin's natural barrier.  Masque Biosensible (sensitive/dry skin)is ideal for calming red, irritated or rosacea, this detoxifying mask purifies and soothes skin and reduces the appearance of blemishes, replenishing structural lipids, restoring the hydrolipidic film and protecting against environmental elements by fortifying the skin's protective barrier.  The hyaluronic acid and the omega 3 & 6 contained in this mask will repair the epidermal tissue, while the cucumber and squash extracts will have soothing properties. A great masque to mix with others to alleviate sensitivity, dryness and redness.
Men: Mix two parts shaving foam with one part Masque Biosensible for a smooth, gentle shave. Moisturize afterwards with Emulsion Gel Biosensible.
Recommended For
All Skin Instants
How to Use
Cleanse your face with your Biologique Recherche Cleansing milk. Apply Lotion P50T with a cotton round. Apply Masque Bio-Sensible to face and decollete and allow to remain for 20 minutes. Remove with warm wet washcloth. Apply your serums and creme.
Products you can use with Masque Biosensible are: 
Cleanser: Lait U/Lait EV & Eau Micellaire Biosensible
Exfoliant: P50 PIGM 400,  (if skin can tolerate)
Serums: Serum Biosensible, Serum Amniotique & Serum Elastine Authentique
Biologique Moisturizer of choice.
Finishing Serum: Silk Plus/Serum Complexe Royal
Serum de Teint for a amazing glow.
Ingredients
Biologique Recherche Masque Bio-Sensible's formula contains high concentrations of active ingredients renowned for their high tolerance. It soothes and softens your skin. It is recommended for dehydrated, sensitive and reactive skin.
3.4 fl. oz. / 100ml
---
Share this Product
---