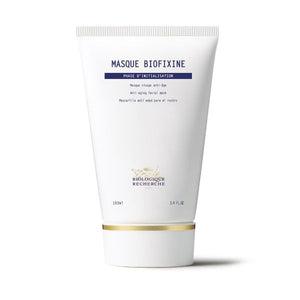 Biologique Recherche
Masque Creme Biofixine
Instantly smooths, softens and reduces wrinkle and fine lines. Improves skin elasticity. Helps prevent visible signs of aging.

Masque Crème Biofixine is an innovative product that can be used as a cream or a mask. It purifies the skin with white clay and prevents visible signs of aging. It smooths and reduces wrinkles and fine lines, improving skin's elasticity and revealing a more uniform texture thanks to its antioxidant properties.
Unifies the texture of the skin.  This creamy mask is formulated to improve elasticity and has a re-plumping effect. This anti-wrinkle mask from Biologique Recherche is a dual-function product that delivers a host of anti-aging skin benefits. It is intended for use on mature skin that is showing signs of aging—including wrinkles, fine lines, and dullness—and offers tremendous skin smoothing and tightening benefits when applied regularly.
Recommended For
All Skin Instants Ideal for devitalized Skin Instants displaying visible signs of aging.
How to Use
Cleanse your face with your Biologique Recherche Cleansing milk. Next apply Lotion P50T with a cotton round. Then apply Biologique Recherche Masque Creme Biofixine to face and decollete and allow to remain for 20 minutes. Remove with warm wet washcloth. Apply your serums and creme.
This fabulous mask can be applied at night as a night time mask over top of your Biologique Recherche moisturizer and washed off in the morning.  It can also be applied as a moisturizer in a light layer for drier skin types.
Products we recommend to use with this mask are:
Cleanser: Lait EV and Lait VIP 02
Exfoliant: P50T and P50 PIGM 400
Serums: Serum 3R, Serum VG Tensil, and Serum Amniotique
Biologique Recherche moisturizer of choice
Finishing Serum: Serum Le Grand, Serum Yall O2, and Serum Complexe Royal
Serum de Teint to finish with a amazing glow.
Ingredients
A unique blend of grape seed oil, anise extract, and Biologique's exclusive oxygenating complex.
3.4 fl. oz. / 100 ml
---
Share this Product
---