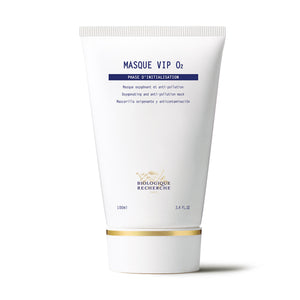 Biologique Recherche
Masque VIP O2
Enhances the functions of the epidermis and cell regeneration. Tones the eye area and reduces dark circles under the eyes.  Masque VIP O2 is one of our most sought after and requested masks from Biologique Recherche. Featuring essential fatty acids and cucumber extract to revitalize the skin's epidermis, this unique masque moisturizes, hydrates, brightens and oxygenates the skin.

Benefits
A refreshing anti-pollution mask that makes your skin breathes thanks to its oxygenating properties.
Revitalizes stressed skins, making them glow with good health. Visible lightening effect.
Ideal to calm the effects of the sun. Place in the refrigerator before use and apply in a thick layer. Allow its refreshing effect to soak through you. Your skin will be soothed and relaxed.
Creates favorable surface conditions which enhance the functions of the epidermis.
Enhances cell regeneration and revitalization of the epidermis.
Tones the eye area and reduces dark circles under the eyes.
Soothes the skin.
Hydrates the top layers of the epidermis.
Brightens and unifies the complexion.  Oxygenating and brightening mask for any type of skin.
Great for people with dull, tired skin from smoking, overwork, and lack of sleep.
Recommended For
Stressed, Traumatized Skin Instants
How to Use
Cleanse your face with your Biologique Recherche Cleansing milk. Next apply Lotion P50T with a cotton round. Then apply Biologique Recherche Masque VIP O2 to face and decollete and allow to remain for 20 minutes. Remove with warm wet washcloth. Apply your serums and creme.
Products we recommend to use with Masque VIP 02 are:
Cleanser: Lait VIP 02, Lait U, Lait EV and Eau Micellaire Biosensible
Exfoliant: P50T and Lotion P50 PIGM 400
Serums: Serum Elastine Authentique, Serum A-Glyca, and Serum Amniotique
Biologique Recherche moisturizer of choice
Finishing Serum: Fluid VIP 02 and Serum Yall 02
Serum de Teint to finish off with a fabulous glow
Ingredients
Moisturizing:

 

Marin Elastin.
Purifying and lightening:

 

White Clay.
Oxygenating:

 

Specific BR Oxygenating Complex.
Relipidating:

 

Essential Fatty Acids Complex.
Soothing:

 

Cucumber Extract
3.4 fl. oz. / 100ml
---
Share this Product
---