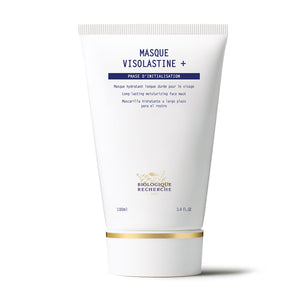 Biologique Recherche
Masque Visolastine +
Moisturizes and softens the epidermis. Cleanses the pores without drying the skin thanks to the light texture of the White Clay. Revitalizing and refreshing. Helps reduce the signs of aging.

Mix this mask with Biologique Recherche Serum Amniotique/Serum Colostrum for added hydration—it's excellent for very dry skin.
Masque Visolastine Plus moisturizes the skin, and helps reduce the tightness in the skin, revitalizing the skin and helping to reduce signs of aging.
The Masque Visolastine + is a complete natural solution that offers immediate and lasting hydration to skin.
It boosts hydration in the upper layers of the epidermis and strengthens the skin's barrier to protect against dehydration.
Its long-lasting moisturizing action provides soft, comfortable skin for the entire day. Ideal for dehydrated skin, the Masque Visolastine + leaves the skin radiant and the complexion fresh and glowing.

Benefits
Durably moisturizes the upper layers of the epidermis.
Reduces trans-epidermal water loss
Protects skin barrier from dehydration
Restores hydrolipidic film
Provides a sensation of comfort and softness
Recommended For
All Skin Instants Ideal for dry, devitalized and/or alipidic Skin Instants
How to Use
Cleanse your face with your Biologique Recherche Cleansing milk. Apply Lotion P50T with a cotton round. Apply Biologique Recherche Masque Visolastine + to face and decollete and allow to remain for 20 minutes. Remove with warm wet washcloth. Apply your serums and creme.
Products we recommend to use with Visolastine+ are:
Cleanser: Lait EV,  & Eau Micellaire Biosensible
Exfoliant: Lotion P50T/Lotion P50 PIGM400
Serum: Serum Amniotique, Serum A-Glyca, Serum 3R, and Serum Elastine Amnitique
Biologique Recherche moisturizer of choice.
Finishing Serum: Serum Yall 02, Le Grand Serum, Silk Plus, and of course finish off with Serum de Teint for that fabulous glow.
Ingredients
Biologique Recherche Masque Visolastine Embryonnaire Active ingredients include: natural essential fatty acids, marine elastin, marine collagen and cellular extracts.
3.4 fl. oz. / 100ml
---
Share this Product
---