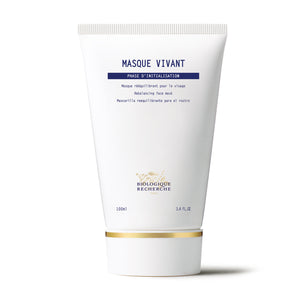 Biologique Recherche
Masque Vivant Rebalancing Face Mask
Mask for oily/acne/aging skin. Also works amazing as a spot treatment for blemishes, the yeast helps to reduce inflammation and redness. Contains live yeast extract that is packed with amino acids and famously nourishing Vitamin B Also Purifies, Tones, and Refreshes the complexion.

The benefits of this mask are astonishing: evens out skin, shrinks pores, makes skin tight, prevents wrinkles; it's like a daily face lift."
This thick paste helps regulate sebum secretion, purifies and tightens pores, revealing a brighter, even complexion.
One of the best anti-aging masks created! Always mix with your Quintessential serums for best results, before applying.
Tip: For stubborn blackheads, add a pinch of baking soda! Mix in the palm of your hand a few drops of Iribiol serum, tiny pinch baking soda and mask.
Recommended For
Seborrheic, Dull and/or less Toned Skin Instants
How to Use
Avoid the eye area. Apply Masque Vivant (Mix some of your BR Serums in this mask, makes it more effective) over all the face, neck and cleavage. Leave for 15 minutes, moisten the mask and rinse off at least twice with warm water. For seborrheic skin mix a pinch of bicarbonate of soda and a few drops of Complexe Iribiol with Masque Vivant and apply the frothy mixture in a thin layer over the entire face and neck.  This is the balancing mask par excellence. It contains high concentrations of Yeast, Cucumber, and Witch Hazel extracts renowned for their skin purifying properties.  It is recommended for seborrheic, dull and/or less toned skin.
For oily skin types mix with a pinch of baking soda to help unclog pores and lift away excess oils and impurities.
For Dry or Sensitive Skin Types combine with Masque VIP 02 to soothe and offer extra skin hydration
Problem Skin:  Use as a spot treatment, apply to blemishes.  Leave on 20 mins and wash off. You can do this 3-4 times a day to help clear up breakouts.  Works like a charm. You can mix a few drops of Iribiol Serum to mask to make it more effective.
Products we recommend to use with Masque Vivant are:
Cleansers:  Lait VIP 02/Lait U
Exfoliant: Lotion P50T and Lotion PIGM 400
Oily/acne skin types:  Serum Iribiol, Serum Tissulaires, and Serum Placenta
Aging skin: Serum A-Glyca, Serum Elastine Authentique, and Serum Matriel Visage
Followed by appropriate Biologique Recherche moisturizer.
Finishing Serum for oily skin types: Serum VIP 02
Anti-aging skin types: Serum Yall 02
All Skin Types:  Serum de Teint
Ingredients
Purifying and Regulating: Yeast Extract
Soothing agents: Cucumber and Witch Hazel Extracts
Moisturizing: Lactic Acid
3.4 fl. oz. / 100ml
---
Share this Product
---