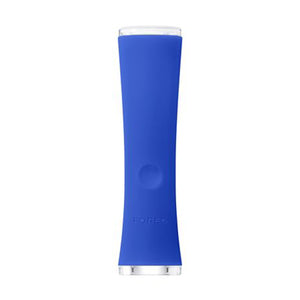 FOREO
Espada Blue Light Acne Treatment
Regular price
$199.00
$0.00
Unit price
per
Color: Coblat Blue
Take aim at your blemishes with the same powerful beam of 415 nm blue LED light used by professionals. Equipped with laser-focused cross hairs and T-Sonic pulsations, Espada targets pimples, clogged pores and blackheads, with studies showing 3 out 4 people report clearer looking skin.
Used For
Blemish control
Suggested Usage
Cleanse your face to remove all dirt and makeup. ESPADA's blue light is most effective on clean, unblocked skin.
Press the center button once to activate the device, and point it over the blemish using the targeting red light. The blue light will activate upon contact with the skin.
Hold the ESPADA on the blemish for 30 seconds, at which point it will pulse to let you know it's completed.
Built-in timer pauses pulse once every 30 seconds to indicate the end of one blemish-treating routine.
For mild acne, apply two 30-second routines.
For more moderate acne, three to four routines are recommended.
Precautions

The skin may feel warm during treatment, which is not any cause for concern.
The skin may develop a slight redness that fades within 24 hours.
If the skin develops a slight discoloration that lasts for more than 24 hours, discontinue use.

---
Share this Product
---