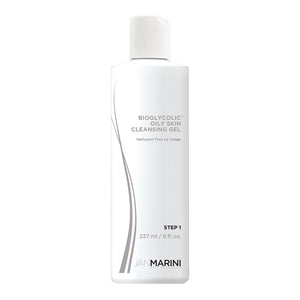 Jan Marini Skin Research
Bioglycolic Oily Skin Cleansing Gel
Regular price
$58.00
$0.00
Unit price
per
The Bioglycolic Oily Skin Cleansing Gel is a deep follicular cleansing agent that provides extra benefits for extremely oily/problem prone skin. Specially developed for oilier skins, this gel based formula lathers well and leaves skin feeling exceptionally clean and soft. With continued use, individuals will notice that their skin appears less oily with a smoother more refined texture.
Benefits

For extremely oily skin.
Lathers well and leaves the skin feeling exceptionally clean and soft.
Skin appears less oily with a smoother, more refined texture.
Helps to clear acne lesions.
Enhances the benefits of other acne products.
Recommended For
Oily to Excessively Oily Skin
How to Use
Massage an amount approximately the size of a quarter over dry skin. Add water to lather. Remove with a clean washcloth. Splash 10 to 15 times with lukewarm water. Blot dry. Use in morning and evening.
Ingredients
Deionized Water, Ammonium Lauryl Sulfate, Glycolic Acid (Partially Neutralized With Ammonium Hydroxide), Ammonium Laureth Sulfate, Glycerin, Cocoamphocarboxy Glycinate, Propylene Glycon, Diazolidinyl, Urea, Methylparaben, Propylparaben, Fragrance.
Size:  8 oz
---
Share this Product
---