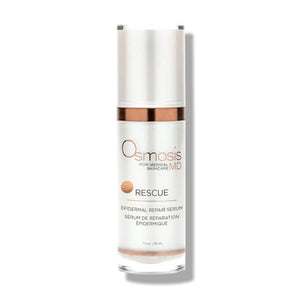 Osmosis MD
Rescue - Epidermal Repair Serum
Regular price
$180.00
$0.00
Unit price
per
We've enhanced our best-selling serum, Rescue, by adding breakthrough ingredients that amplify its legendary repair capabilities. Our innovative formula featuring patented Trioxolane (ozonized ethyl oleate) now has additional active ingredients to bring Rescue to the next level of performance and efficacy.

Rescue compromised skin with this uniquely powerful serum proven to neutralize toxins, calm inflammation and activate epidermal wound and DNA repair to dramatically improve skin texture and age spots. Additional active ingredients have been added to boost repair, improve radiance, and protect skin from elemental stressors and blue light damage.
Utilizes a powerful blend of groundbreaking ingredients to soften your complexion, minimize scarring and drastically improving your skin tone. This restorative serum targets aging skin, uneven skin tone, oiliness, and blemish-prone skin by helping neutralize toxins, soothe inflammation and keep breakouts at bay.
Key Ingredients
Ozonized Ethyl Oleate: restores damage and boosts skin's resiliency
Key Benefits
Boosts skin's resilience
Minimizes the appearance of age spots, rough skin, and large pores
Calms redness
Banishes blemishes
Tip
Can be used as a spot treatment for acne, pigmentation, rashes, or burns.
Recommended For
All Skin Types, Inflamed Skin, Acne, Rosacea, Hyperpigmentation, Melasma, and Liver Spots
How to Use
Apply 1-2 pumps morning and evening. May be used in combination with other serums. If twice daily application is not desired, 4-6 pumps may be used as an evening mask for maximum epidermal repair activation. Can be used to spot treat blemishes, age spots and other forms of inflammation.
Ingredients
Water (Aqua), Ozonized Ethyl Oleate, Cyclodextrin, Carbomer, Glycerin, Sodium Hydroxide.
30 ml
---
Share this Product
---