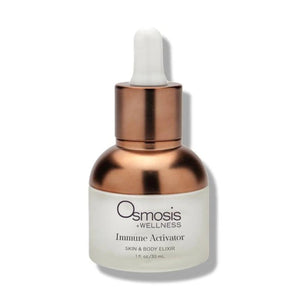 Osmosis Wellness
Immune Activator - Skin & Body Elixir
Regular price
$151.50
$0.00
Unit price
per
30ml
Contains a patented oxygen molecule that has proven remarkable benefits throughout the body. The body utilizes this oxygen to fight off viruses and other infections to repair oxidative damage and to enhance overall immunity. As we age one of the key reasons for a decline in the body is the loss of oxygen over time. Our stable molecule safely replenishes oxygen allowing the body to heal conditions like melasma, autoimmune deficiencies, and many other inflammatory conditions.
The body uses oxygen to heal, fight bugs, and repair damage. Our Immune Activator contains a patented, stabilized oxygen molecule that empowers the immune system, enhancing overall immunity inside and out.
Immune Activator is a nutraceutical that helps to strengthen your immune system and reduce inflammation throughout the body. With regular use, it helps to slow the aging process and helps you to feel healthier over all. It is meant for people who are aging as well as for people suffering from a wide variety of conditions, including eczema, psoriasis, joint deterioration, hyper pigmentation, dermatitis and acne, among others. It is also good for those who just want an immune system booster.
How Does It Work?
The main active ingredient in this product is an extract of sweet wormwood, which has been demonstrated in trials to promote the immune system and to repair damage throughout the body.
Do not exceed recommended dose. Pregnant or nursing mothers, children under 18, and individuals with a known medical condition should consult a physician before using this or any dietary supplement. These statements have not been evaluated by the Food and Drug Administration. This product is not intended to diagnose, treat, cure or prevent any disease.
Aging body and skin
Melasma
Hyperpigmentation
Liver and Age Spots
General Wellness/Immune Support
Psoriasis
Eczema
Acne
Dermatitis
... And Much More!
How to Use
Dispense a full dropper under tongue once daily for 5 minutes then discard or ingest.  If desired may also apply topically on compromised skin.
Immune Activator works very well when supplemented with any of our Harmonized Waters. Hormone Water helps with menopause, menstrual cramps and moods swings associated with menstrual cycles or menopause.  Inner Harmony is very good for helps with overall emotional well-being.
---
Share this Product
---