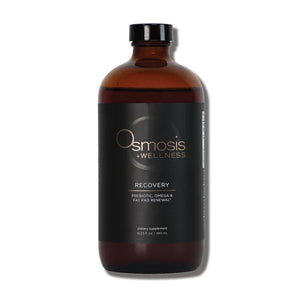 Osmosis Wellness
Recovery - Dietary Supplement
Regular price
$209.00
$0.00
Unit price
per
480ml
Recovery can replace much of the facial volume loss that occurs with aging. By restoring critical nutrients to reactivate fat cells Recovery alleviates the need for volume fillers while creating a much more natural, youthful appearance. Recovery's nutraceutical properties also helps restore your unique probiotic population and provides essential fatty acids, like omega-7, supporting health and cellular function.
Targets and restores fat loss in facial pads and lip volume.
Restores probiotic population and omegas, including omega-7
How to Use
Shake well and take 1 tbsp (15mL) twice daily for fat pad recovery or take 1 tbsp (15mL) once daily for probiotic and Omega fatty acid recovery.
Fat pad recovery typically requires 7 bottles.
Probiotic recovery typically requires 3 bottles.
Once goal is reached, maintenance is 1 tsp (5mL) per day.
Do not exceed recommended dose as it will not speed the results.
Recyclable, Vegan, and Gluten-Free.
* These statements have not been evaluated by the Food and Drug Administration. This product is not intended to diagnose, treat, cure or prevent any disease. Color may change or vary naturally over time. This does not reduce the efficacy of the product. This ingredient list is subject to change; please refer to product packaging for the most up-to-date ingredient list. Chirally correct ingredients used where possible
---
Share this Product
---