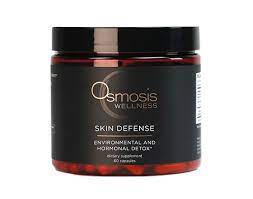 Osmosis Wellness
Skin Defense - Environmental and Hormonal Detox
Regular price
$82.00
$0.00
Unit price
per
60 capsules
A dietary supplement that assists in balancing hormone metabolism. Found in vegetable sources, such as broccoli, Diindolylmethane (DIM) will also aid in eliminating toxins from environmental pollution. Detox and normalize hormone health in a daily supplement. This also contains Activated Charcoal, which helps assist in eliminating toxins from the body. Raw Cacao is a potent antioxidant that helps to protect the body from free radical damage. This is an exceptional supplement to address internal skin concerns associated with hormonal stress. Oily skin, hormonal acne outbreaks and blemishes that arise from stress or from poor diet will benefit from the metabolic and hormone stability offered by this product. *Note: As with any dietary supplement, always consult with a physician about any medical concerns or contraindications with other medication.
How to Use
Take 1 capsule twice a day. Can be taken with food or on an empty stomach.  Try to take approx. 10-12 hours apart for best results.  Recommend drinking lots of water to flush toxins from the body.
Ingredients
Diindolylmethane 200 mg. Detoxification Blend: 500 MG: Glutothione S-transferase, Activated Carbon/Charcoal, L-orinthine, Raw Cacao, MSM (Methylsulfonylmethane), Sodium Butyrate, Yucca Powder. Other ingredients: Hydroxypropyl Methylcellulose, (Vegetable capsul shell), Vegetable Stearate.
---
Share this Product
---