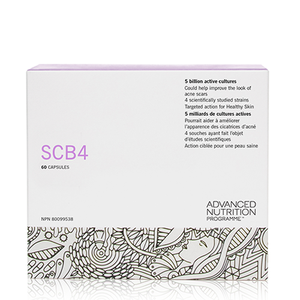 Advanced Nutrition Programme
SCB4 Skin Clear Biome
Regular price
$108.00
$0.00
Unit price
per
Formulated specifically for stressed and problem skin, SCB4 is a pioneering supplement that harnesses the benefits of microbiome technology. Four strains of beneficial bacteria with zinc work in synergy to balance and clear the skin from deep within. SCB4's patent-pending biome technology nurtures the close connection between a healthy gut and balanced skin.
Benefits: 
Works from the inside out to clarify complexion
Works to balance the skin's natural barrier
Brightens skin
Helps support gut flora
Supports skin health*
Supports skin immunity
Not tested on animals
Manufactured in the UK to certified Good Manufacturing Practices (cGMPs) regulations
FDA registered
Stress, diet, antibiotics and some medications are known to cause imbalances in the gut microbiome, which may result in problem skin and imperfections. SCB4 is designed to work from the inside out: feeding the gut with bacteria to clarify and brighten skin. SCB4 synergises four specific strains of bacteria and yeast selected by our nutrition and scientific experts for their research-backed impacts on the underlying causes of problem skin. The unique combination helps support gut health, maintain immunity , soothe irritation and oil production.

The skin-friendly strains are fused with zinc, which is recognized for its multiple benefits for skin, to further skin balance and complexion clarity. SCB4's bacteria blend helps maintain a healthy gut flora. Over 70% of cells making up the immune system are based in the gut and nourishing the internal microbiome can support this.

The formula is housed within a protective matrix to ensure active bacteria reach the area of the gut where they are most needed. To further preserve ingredient integrity, quality and activity, these SCB4 capsules are packed in pristine, nitrogen-flushed aluminum pods.

Suitable for all skin types, particularly problem, compromised or stressed skin. Our experts recommend taking one capsule daily with food.
Instructions:  Take one capsule a day with a meal, or as your health professional advises.  If you are under medical supervision, please consult a doctor before use. The product should not be used as a substitute for a varied and balanced diet and healthy lifestyle. Do not exceed the stated recommended daily intake. Keep out of the reach of children.
Ingredients: 
Formulated specifically for problem and stressed skin, this new, pioneering supplement harnesses the benefits of microbiome technology. This patent-pending formulation features four strains of beneficial bacteria with zinc to work in synergy to balance and clear the skin from deeper within. Each capsule features the following ingredient technologies: 
In contrast to other supplements with beneficial bacteria,  Skin Clear Biome™ capsules are not required to be refrigerated. The strains themselves are acid and temperature stable but they are also microencapsulated in a protective matrix which ensures the live bacteria are highly protected to reach the small intestine where they are needed. The formula has undergone rigorous stability testing so our team are proud to guarantee that there are 5 billion active cultures right up to the end of the two-year shelf life.
Each box features a two month supply of Skin Clear Biome™ and to further preserve ingredient integrity and activity, these one-a-day capsules are pristinely packed in nitrogen-flushed, aluminium pods.
60 Capsules
*These statements have not been evaluated by the Food and Drug Administration. These products are not intended to diagnose, treat, cure or prevent any diseases.
---
Share this Product
---